AALBORG, Denmark – We are thrilled to announce that 2N Pharma will be a showcase presenter at BioSeed 2022. 2N Pharma will attend BioSeed, OBN's Early-Stage Life Science Investment Event. The event takes place in London on January 25. Chair Alex Leech, CEO Preben Bruun-Nyzell, as well as CSO John Nieland will represent 2N Pharma.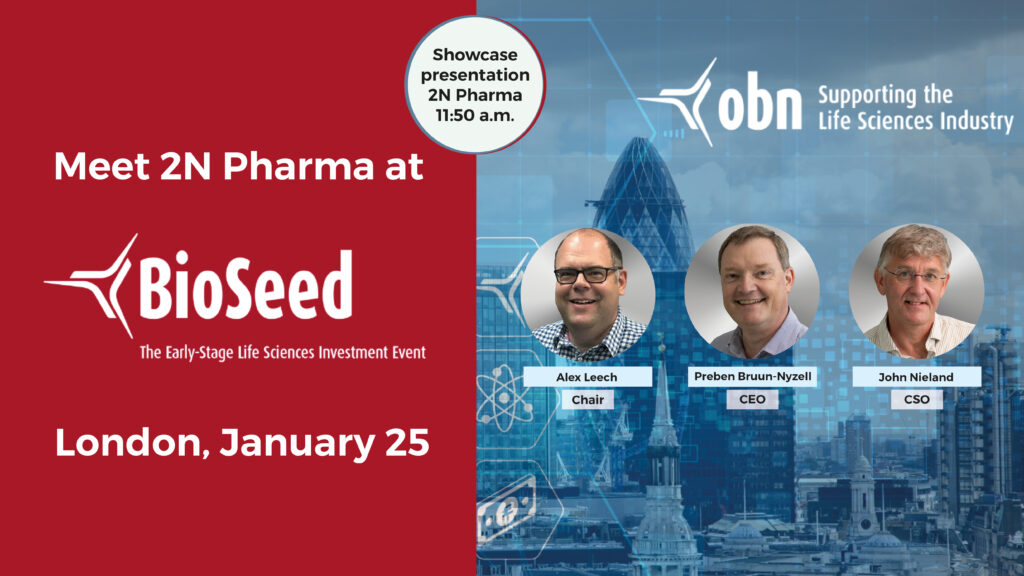 Showcase presentation
During the conference, Preben Bruun-Nyzell will give a live, in-person showcase presentation for active life science investors who are looking for new investment opportunities. The presentation starts at 11.50 a.m.
About 2N Pharma
2N Pharma is a small biotech company with great ambitions. With our innovative approach, we aim to develop new drugs for ALS and Parkinson's patients, contributing to our vision of developing medicines that can cure neurodegenerative diseases.
About BioSeed
BioSeed, organised by OBN, is an Early-Stage Life Sciences Investment event. The event targets both innovative, early-stage companies seeking seed or Series-A funding, and active life science investors looking for novel funding opportunities.
This one-day pitching event features presentations from up to 50 innovative, biotech, MedTech, and digital health companies. Additionally, the event includes private 1:1 partner meetings as well as networking opportunities.
In order to book a private 1:1 meeting with 2N Pharma, please visit the conference partnering platform.
In conclusion, find more information on the BioSeed website.